2018 Christmas Digital Stamp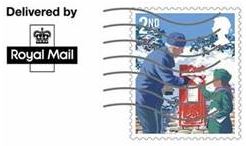 Did you know that you can pre-print colour stamps* on your envelopes?
If you want your mail-pieces to stand out from the crowd then you can change the 'standard' PPI to a 'stamp-like indicia'.  You may have already received an envelope with one and not even realised that it wasn't a real stamp!
The 2nd class stamp (blue) is one option but we can also now offer a 2018 2nd Class Christmas stamp image as an image option for use on from 5th November 2018 until the end of January 2019.
To use a Digital Stamp design on your mailings you must use Mailmark.
If this is of interest to you or you have any questions then get in touch with the team at Cavalier Mailing