Laser Printing / Ink Jetting
Most of the items which we process are mailed and of course need addressing / personalising in some way. Cavalier Mailing are able to offer two forms of addressing – Laser Printing and High Speed Inkjet addressing.
Inkjet Printing is used to personalise postcards, carrier sheets and brochures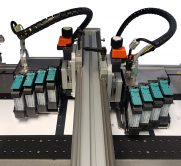 In February 2023 we installed a new x-Jet hi-resolution inkjet system.
This enables us to provide near laser quality finish directly onto postcards, envelopes and brochures.
With two enable this gives us the ability to print addresses, postage indicias and return addresses in one pass.
The main benefit of this system is that it can print data onto glossy, coated, porous and plastic stocks. The powerful and speedy variable data printing machine is ideal for a broad range of mail services, typically envelopes, postcards and unwrapped (naked) brochures.
---
High Speed Professional Inkjet Variable Data Printing Machine
Variable Data and Auto Print Numbering
Print On To Glossy, Coated, Porous Paper and Plastic
Print number sequences, addresses, membership codes and more
Used Either In-line, On-line or stand alone print head
Uses Between 1 and 16 Fixed Head Ink Cartridges
Print Up to 15,000 Items Per Hour (dependent on application)
Print Quality Up To 600 DPI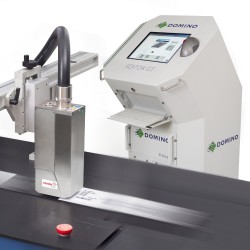 Also attached to our polywrapping line is our Domino Bitjet Inkjet head.
This is a versatile printer for high speed lines providing in-line digital printing on all media types. Operating at speeds of up to 10,000 items per hours the operating at the speed of the fastest web presses, you can still print text, barcodes, 2D codes and graphics on almost all media types.
Print Performance
Fast-drying ink for all substrates
Print resolution up to 170 x 170 dpi
Prints variable text including addresses, Bitmap graphics, and a comprehensive range of barcodes and 2D codes (including QR Codes)
In mailing terms, capable of printing CBC Barcodes
Inkjet printing is a fast, cost effective way to address items but does not compete or compare directly with laser printing.  The resolution of the printed image is lower than laser printing but still perfectly acceptable for most situations.  Additional because the ink dries almost instantly it has the benefit of being able to print onto items that could never be laser printed.  For example you can print directly onto the cover of catalogue or onto the poly that might wrap an item (in the latter printed polywrap would be required)
Laser printing is used to personalise letters, carrier sheets, direct mail at up to 1200dpi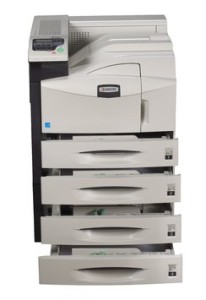 We operate 10 Kyocera FS 9 Series printers which as versatile high-speed machines which are capable of printing a range of different sizes, and paper thickness:
– Print speeds of 51 pages per minute in A4
– 26 pages per minute in A3
– Simplex or Duplex Printing
– Typical paper weight compatibility of 60 to 200 gsm
– Printing onto plain or printed stock (check laser compatibility)
With multiple printers we are able to either run multiple jobs at the same time and / or split larger jobs across a number of machines. These machines are very flexible in terms of paper sizes and we can run items as small as A6, DL, though A5, A4 and A3. It is quite common also for oversized sheets such as A4+DL (maybe a perforated response form) and these are no problem for us.
The process of laser printing might be as simple as personalising a pre-printed letter with a name and address, a carrier sheet with name and address, return address, PPI and company logo, or something more complex with multiple merge fields across both sides of a sheet of paper. Laser printing has the advantage (over ink-jetting) of producing a near same quality finish as litho printing enabling us to match fonts to items already printed on the page.
We are able to merge not only name and address information but different paragraphs or even whole letter texts, enabling you to benefit from postage discounts (on larger runs) even when presenting different messages across the mailing. We can even merge different graphics or signatures to suit. We can produce items from supplied PDF's or Word documents. Where appropriate we will advise on layout styles and use of fonts to help you present the most professional image.