Tabbing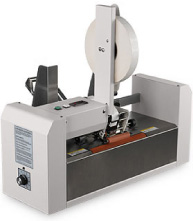 Turn your leaflets into mailers using tabbing. One-piece mailers are a great way of achieving a high visual impact for your direct mail campaigns without using polywrap or envelopes.
Tabbing is an economical and environmentally friendly alternative to using traditional envelopes or polywrap in direct mail campaigns. Tabs can be placed on a wide variety of open-ended media including mail pieces, folded stock, double postcards, newsletters and booklets.
If you have a leaflet that you want to mail, we can tab an open edge (or edges) to turn it into a one piece mailer which is then inkjet personalised with variable address data. This allows the item to arrive with the recipient without losing the impact of the design hidden inside an envelope.
We can quickly and easily apply tabs to folded mail pieces, making it an ideal way to deliver eye-catching mail securing the mail without the risk of it being opened in transit.
The most common format for tabbing is A5 but we can handle mail pieces from 76mm x 127mm to as large as 431mm x 457mm.