The Machin Definitive 50th Anniversary stamp set has been released to celebrate the golden anniversary of his famous 1967 design of Queen Elizabeth II's head on modern-day stamps.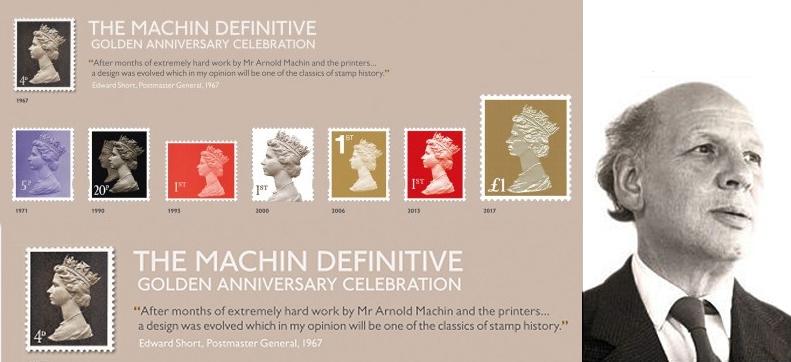 Machin was one of five artists who submitted designs to the Stamp Advisory Committee in 1965 and his simple portrait was favoured above the others. It was thought to be elegant, simple and more defined than its rivals and the darker background emphasised the design.

The Queen approved the new stamp in 1966 and it was issued to the public in 1967. The design is enjoying great longevity and half a century later, it's still in use and has become an iconic symbol of the monarch and Great Britain. It has been reproduced an amazing 200 billion times – more times than any other image throughout history.
The Sculptor
Machin was a renowned sculptor even before he designed the iconic stamp. Born on 30th September 1911, at Oak Hill, Stoke-on-Trent, he seemed destined to become a sculptor, since his father was a freelance modeller and even made the young Arnold his own set of tools.
Mr Machin senior worked freelance from his garden shed making models for the pottery industry but he had to find paid employment at Buller's Porcelain Factory when his own business failed to take off. Arnold became an apprentice China painter at age 14, working for Minton China Factory for seven years.
He learned how to sculpt at Stoke-on-Trent Art School and to hone his skills, he then attended Derby School of Art, followed by London's Royal Academy. During the 1940s, many of his creations became much sought-after and in 1946, he became an associate of the Royal Academy. He later became a Royal Academy School Master of Sculpture -a position he held until 1967.
The Stamp
His design for the definitive 1967 stamp has been hailed as the modern-day Penny Black. It originated in designs for coins and medals and was based on a sculpture he created for the new decimal coins. He wished the image of the Queen to be timeless so that it would remain current and unaffected by fashion and design trends in the future.
The Queen had chosen a dark olive-sepia hue for the inland letter rate, to emulate the Penny Black's colour. Photographs taken by Lord Snowdon had been used as the basis for the Queen's image on the new decimal coins and subsequently the new stamps. The first stamps with Machin's design were issued on 5th June 1967.
Commemorative Pack
There are various packs available of the Machin Definitive 50th Anniversary stamps – a pack of six First Class stamps, a pack of seven stamps including the large £1 stamp and an old 4d stamp originally issued on 5th June 1967, a set of stamp sheet first day covers, a set including an icon medal created by the Royal Mint, a solid sterling silver medallion and a prestige stamp book.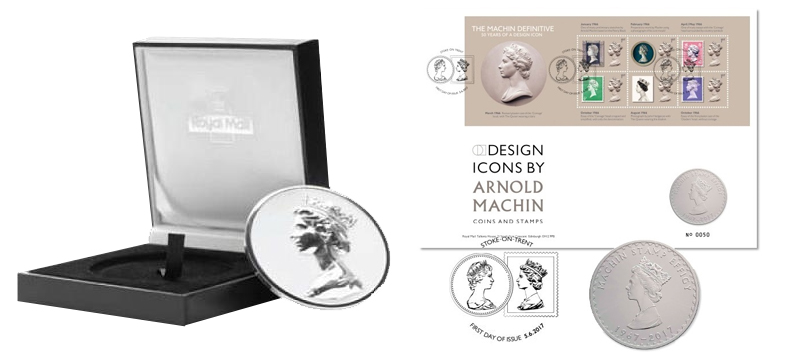 Cavalier Mailing believes that sending mail with a postage stamp can increase the likelihood of your direct mail letters being opened. Our customers can still benefit from some Mailsort discounts and the rewards of a higher "open rate" are well worth the effort. Please contact us for further details on our postage stamp mailing services.