Red Rum and Desert Orchid
Royal Mail has released a new set of commemorative stamps featuring legendary racehorses. Commissioned to celebrate the 40th anniversary of Red Rum's third Grand National win, paintings by famous equestrian artist Michael Heslop depict Red Rum, Desert Orchid, Brigadier Gerard, Kauto Star, Arkle, Frankel, Shergar – some of the finest in horse racing history.

Red Rum
Perhaps the most famous of the eight, Red Rum is a horse whose name is known to millions of people, whether they're horse racing fans or not.
Born on 3 May 1965, the bay gelding achieved a unique treble by winning the Grand National in 1973, 1974 and 1977. He was also runner-up in 1975 and 1976 in the notoriously difficult race, described as the "ultimate test" for any racehorse.
As well as being a world-class steeplechaser, he was also renowned for his ability over fences, never having fallen in 100 races. In his early years, he was ridden twice by Lester Piggott.
Red Rum had a debilitating bone condition pedal osteitis in his hooves but after being bought by Southport car dealer Ginger McCain for his client, Noel le Mare, the horse was trained on the beach, galloping through sea water. This benefitted his hooves and afterwards he won his first Grand National with jockey Brian Fletcher.
This was an amazing win, since Red Rum was 30 lengths behind race leader Crisp but caught up on the final stretch in a miraculous burst of speed to win the race. When Red Rum won his historic third Grand National, it was voted among the greatest sporting achievements of all time – in any sport.
Red Rum retired in 1978 and became a celebrity, leading the annual Grand National parade every year – and even opening supermarkets! He appeared in the studio on the BBC Sports Personality of the Year awards in 1977 and retained his celebrity status until his death, aged 30, in 1995.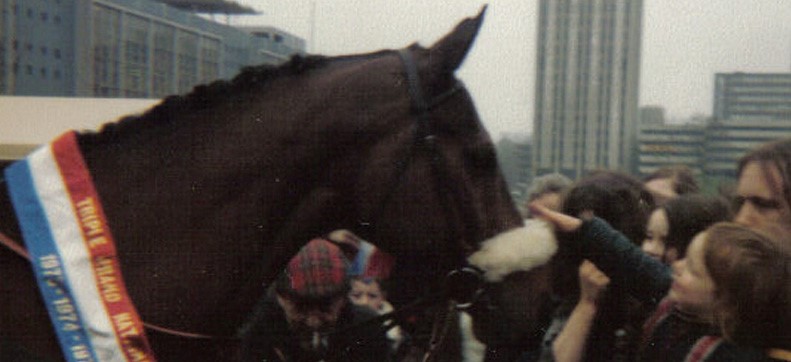 Desert Orchid
Born on 11 April 1979, Desert Orchid was an English grey racehorse that received legendary status in National Hunt racing. Voted the fifth best National Hunt horse in history his iron will, front-running attacking style and versatility made him a popular horse.
During his career, he was ridden by many top jockeys including Richard Dunwoody, Colin Brown, Simon Sherwood, Richard Linley and Brian Rouse. Brown partnered Desert Orchid 42 times, winning 17 races.
Desert Orchid's success included wins at Ascot, Sandown, Kempton Park and Wincanton but perhaps his most famous was his win at the 1989 Victor Chandler Handicap Chase, where his rivals included the top-class Panto Prince and Vodkatini. Desert Orchid beat Panto Prince by a head and went on to win the Cheltenham Gold Cup in front of 58,000 cheering fans – in unfavourable conditions, due to relentless rain and snow before the race. Racing Post readers later voted it the best race ever!
Desert Orchid retired in 1991 and spent summer holidays with owner James Burridge and his family and winters with trainer David Elsworth. He made many public appearances, including his annual trip to Kempton to lead the runners' parade before the King George VI Chase.
His presence at charity events attracted the crowds and raised thousands of pounds. He even had his own fan club which raised £40,000 for charity through sales of merchandise, including his annual calendar. He died peacefully in his stable on 13th November 2006.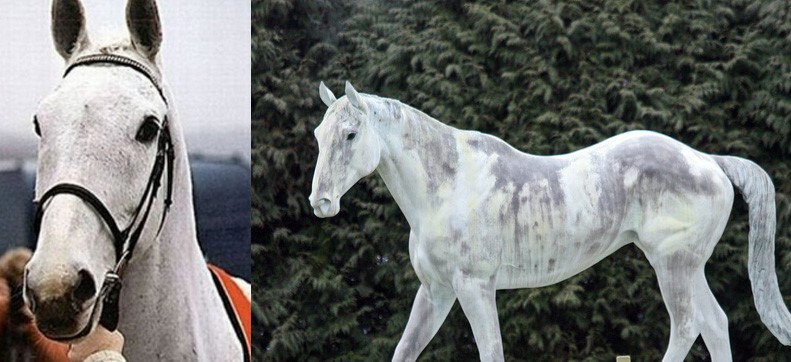 Stamps
The champion horses featured in the Royal Mail Racehorse Legends pack have all won major races during the past 60 years. Heslop says from an artist's point of view, the racehorses have everything that's worth painting, from the horses' coats to the jockeys' colourful silks.
Royal Mail published the stamps to pay tribute to the legendary horses who have achieved greatness and won public affection in a sport that's a British passion.
Cavalier Mailing supports the school of thought that sending mail with a postage stamp increases the likelihood of your direct mail letter being opened. You can still benefit from some Mailsort discounts and the rewards of a higher "open rate" are well worth the effort. Please don't hesitate to contact us for further details on our postage stamp mailing services.