The Oldest Post Office in the World
Sanquhar Post Office has the exclusive title of oldest working post office in the world. Having been in continuous operation since 1712, the tiny post office has more than a 300-year history.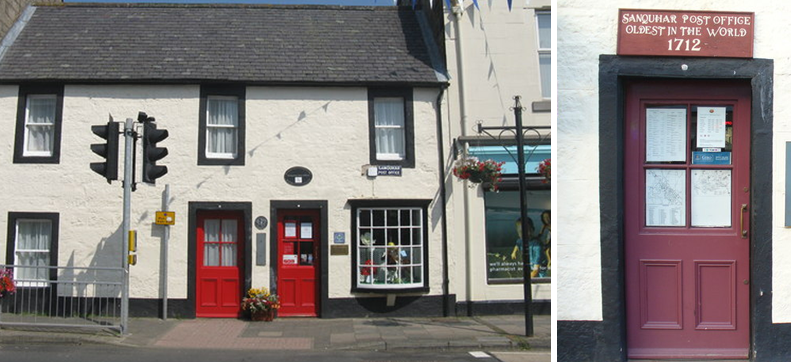 The building rests in the town of the River Nith in Scotland, near the ruins of the 15th Century Sanquhar Castle. Postal services were mainly limited to use by the aristocracy at that time. One significant fact in the post office's history is that it served as the place where the Covenanters signed the Sanquhar Declaration in opposition to the Episcopalian of the church. This document symbolised the Covenanters renouncement of allegiance to the King but the history of the post office goes back much further than that. Artefacts have been found at the location of the building which date back to Neolithic times.
Both the Universal Postal Union and Guinness World Records recognise the post office for its historic standing. The Crichton family originally owned the post office and the Sanquhar Castle, having ruled over the area from the period of 14th to 17th centuries.
When Mary Queen of Scots fled to Sanquhar in 1568 after her defeat in the battle of Langside, Lord Crichton harboured her there prior to her escape. Although the Scots punished Lord Crichton after the castle was captured, it was a lavish party in 1617 that ended the Crichton family rule. The party thrown in honour of King James VI bankrupted the Crichtons.
According to common lore, Lord Crichton crafted a torch made of bond notes worth £30,000 to escort the king to bed. When the Crichton family moved to Ayrshire in 1639, they sold the holdings in Sanquhar and the Earl of Queensberry became the new owner. Another bit of lore is that many of the young women who worked for the Crichton family "entered into the servants' entrance before coming out in a family way."
A 1974 British pictorial postmark honours the post office for having occupied the same house from the time of its inception. The post office was put up for sale and in 2015, postal historian Dr Manzoor Alam embraced the position as postmaster to secure the historic building's future – Dr Alam is only the 16th person to run the branch and takes over from postmistress Penny Murphy. After Dr Alam closed the post office to refurbish it, he once again opened it to the public. Today, visitors can share in the history by having their letters stamped with "The World's Oldest Post Office."
As a leading mailing house company in the UK, Cavalier Mailing offers mail fulfilment and other mailing services for a broad range of business needs – our full range of direct mail and marketing services are suitable for mailing solutions for all types of business needs.

With more than 25 years' experience, we currently send out more than 25 million pieces of mail each year.